Achieving success with vision and proximity to the customers
Back in 1933 Theodor Klaas founded what is now the medium-sized family-run company from Ascheberg in Westphalia. Working firstly as a building contractor, he used all his inventiveness after the Second World War to develop the first inclined lift, which makes work on building sites much easier.
His son Ludger, a trained electrician and master locksmith, joined the firm in 1969. He recognised the tremendous benefits of aluminium as a lightweight material and used it to make the first aluminium crane in 1993, which soon also made its breakthrough internationally. This innovation proved to be a milestone in the company's history and the basis for developing other special machinery, for example in the field of firefighting technology.
To this day we present ourselves as an efficient machine manufacturer with innovative, high-quality products. This quality promise produces experienced employees, who stand up for the company with plenty of expertise and commitment.
Our appliances are sold by us directly and without middlemen in Germany. And that is how it should stay. Because this personal contact and working together as partners help us to understand customer needs and requirements and turn them into innovative products.

Quality
Made in Germany
Quality has always been a priority at Klaas. That is why we produce the vast majority of components at the Ascheberg plant ourselves and only buy in a few materials. In order to maintain and develop our high quality standard over the long term, a few years ago we decided to set up an effective quality management system, which has been accredited in accordance with the ISO 9001 standard which is recognised worldwide.
This tremendous depth of production not only ensures high-quality products, but also allows us to react quickly and flexibly to the needs of our customers and to market requirements.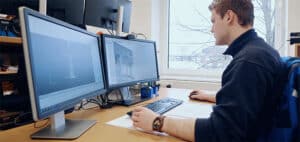 Development
'From practical experience – for practical application.' In line with this motto, our engineers, technicians and technical drawers turn our employees' ideas and customers' requirements into reality. All design work is carried out ourselves in-house with plenty of expert knowledge and years of experience. The result: innovative work machinery for the widest range of applications.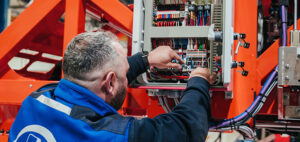 Electronics
Our electrical engineers configure all the necessary control systems themselves: from the software development and the composition of the hardware components through to assembly, everything is tailored to the Klaas appliances. The proximity to the product and to the customer ensures quick and flexible solutions and a high quality standard.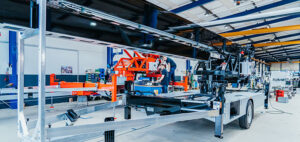 Manufacture
As a metalworking and engineering company, manual skills are very important at Klaas. With the help of the latest machinery, nearly all the components used are manufactured ourselves at the Ascheberg plant. This depth of production enables high flexibility and independence. Production is managed by several master craftsmen, with quality being continuously checked by our in-house specialist welding engineer.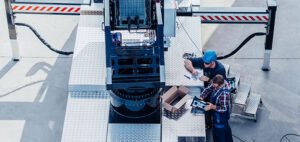 Final inspection
Quality control and safety checks play an important role at our company: as a consequence, every Klaas appliance is tested in detail and its functions are checked before delivery. In this respect, the whole final inspection team – from the mechanic to the crane expert – is aware of its high level of responsibility towards our customers.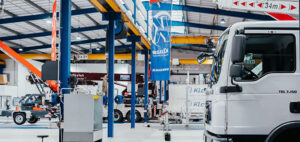 Service
Even after delivery and handover of the products, our customers can count on us: comprehensive instruction and training sessions are just as much a part of what we offer as a reliable maintenance and repair service. All employees at the eight German sites as well as our service partners always endeavour to come up with quick and efficient solutions to problems. Naturally the Klaas service department will also come to you if need be to carry out maintenance or minor repairs.