Shorty 25
The Shorty 25 is the classic for mounting on suitable pick-up chassis. Its total weight is below the 3.5 tonne limit. Its manoeuvrability and low construction height enable it to be used even under difficult local conditions, for example in backyards with low gate entrances. Simple handling and sophisticated technology ensure fast and safe operation. Due to its hoisting height  of 25 m, furniture transport to upper floors is also no problem.
As standard, the Shorty 25 is equipped with a hybrid drive: depending on the location, it can be operated from the vehicle via a PTO auxiliary drive or via a 230-volt electric motor. Thanks to its low-noise drive, this is an advantage when working in hospitals or schools.
---
Equipment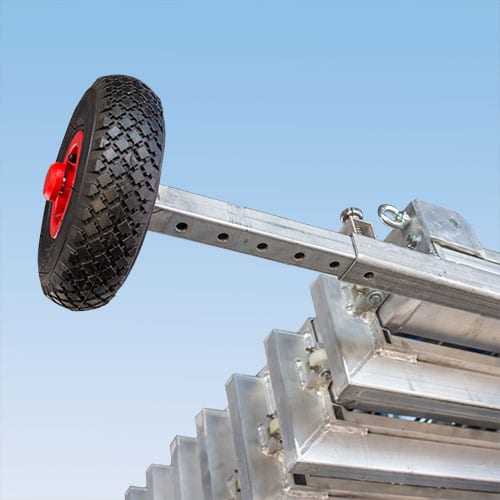 Extendable pneumatic wheels
laterally extendable pneumatic wheels for optimal adjustment to local conditions
various widths can be set thanks to several locking points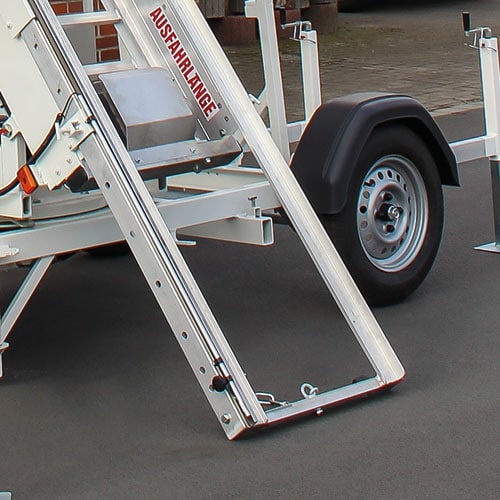 Base extension
stable base extension can be variably pulled out
lower loading height to protect the back whilst working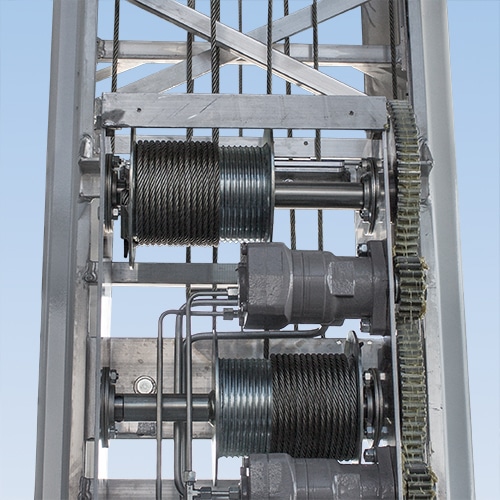 Rail winches
two rail winches for double safety
possible to stop the rail in any position
skipping the ropes and slack ropes are prevented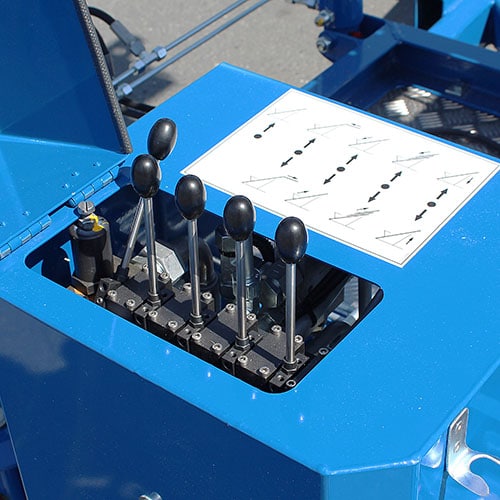 Lift control system
one-handed operation of all hydraulic functions
proportional valves enable sensitive work
soft start-up and braking of the slide conserves the transport material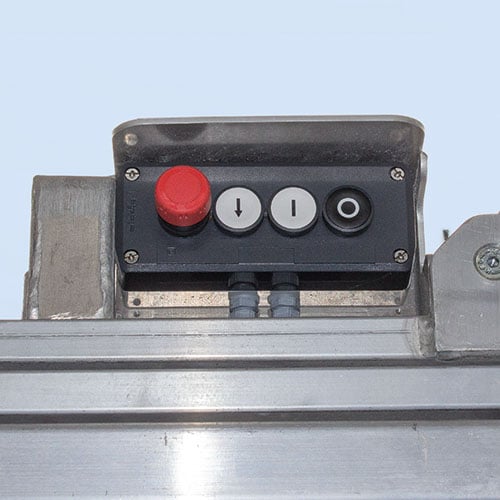 Control on headpiece
slide can be moved from top to bottom
motor on/off function
slide immediately stopped using emergency stop switch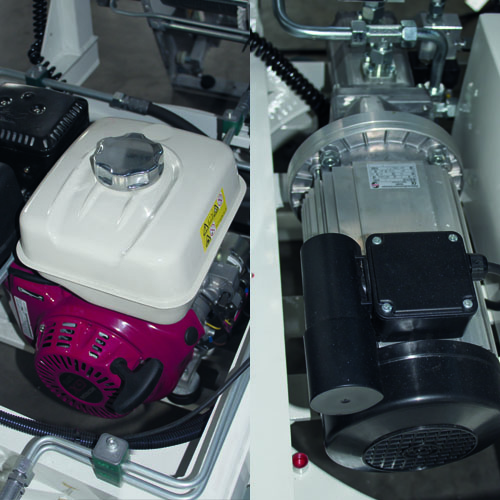 Drive concept
drive optionally via powerful auxiliary drive (PTO) from the vehicle or via an electric motor (230 Volt)
electric motor with automatic gas control reduces fuel consumption and protects the environment low-noise
electric motor useful at special locations such as hospitals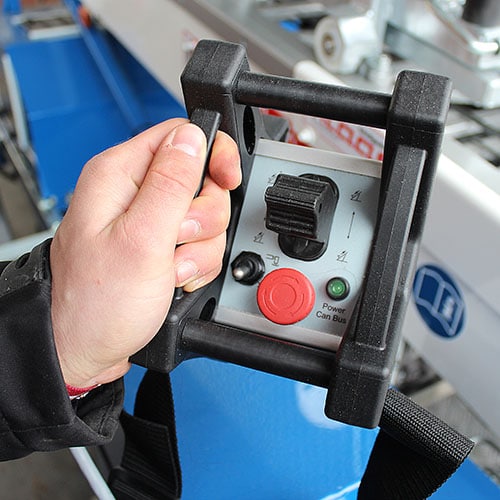 Electric remote control unit
sensitive Joystick control enables smooth starting and braking of the carriage
equipped with 5 m cable allows permanent monitoring of the load
Optional equipment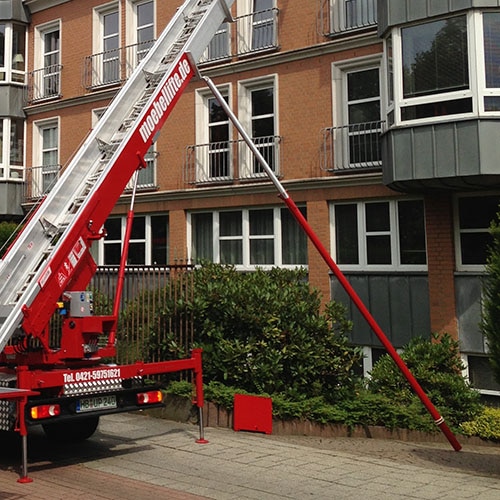 Telescopic supports
telescopic supports made of aluminium to protect the rail package
increased stability
available in lengths of 3,750 to 7,000 mm or 5,000 to 9,000 mm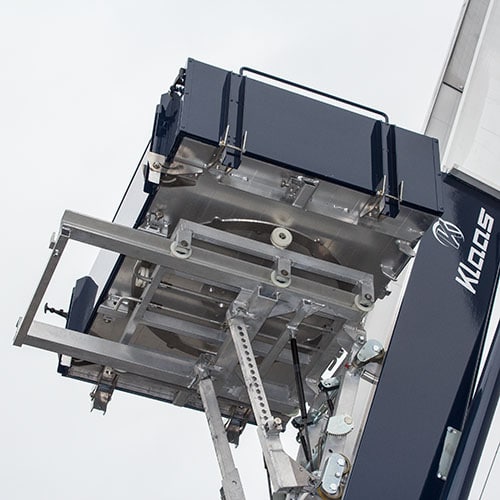 Rotatable-extendable furniture container
Baseplate: 1,500 × 1,000mm
Side parts: 400 mm high and can be folded down to increase the loading area
no gaps on the transitions
height adjustment to adjust the inclination
easy to work with as furniture container can be used for loading and unloading
due to its rotatability, the furniture container also fits through narrow window openings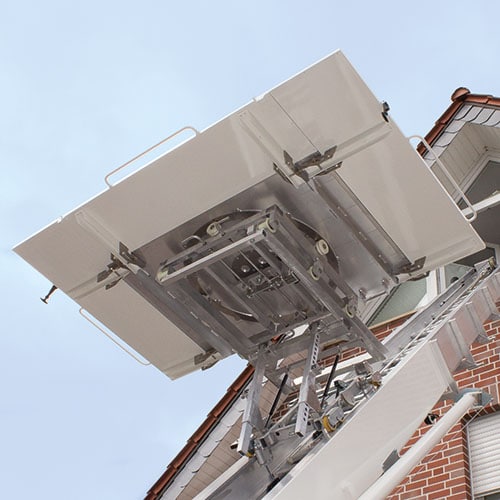 Furniture container 'System Paulus' 
closed loading area by extending the side parts
no opening on the corners
ideal for transporting furniture with feet (armchairs, tables, chairs etc.)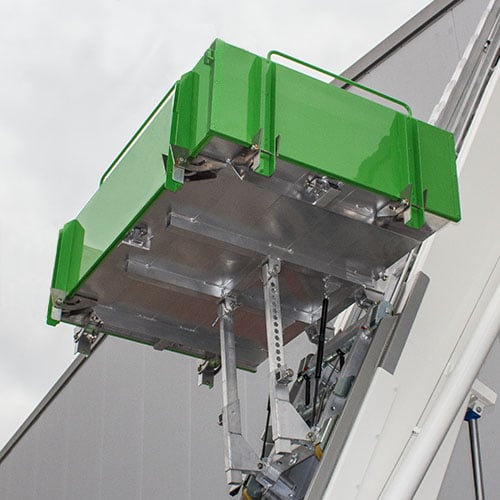 Furniture container
Baseplate: 1,500 × 1,000 mm
Side parts: 400 mm high and can be folded down to increase the loading area
no gaps on the transitions
height adjustment to adjust the inclination
---
Technical specifications
| | |
| --- | --- |
| Typ | Shorty 25 |
| Payload | 400 kg |
| Rail length | 5.0 m |
| Hoisting height | 25.0 m |
| Total weight | ≥ 3.5 t |
| Electric motor slide speed | 48.0 m/min. |
| Vehicle dimensions | 5.543 x 2.128 x 2.913 mm |
---
Subject to technical changes. All dimensions are approximate. The right is reserved to alter the functions and performance. The information reflects the appliance performance at the time of publication.