2.8 to 3 t
≥ 3.5 t
K280
K21-30 RS
K23-33 RS City
K400
Performance values
Hook load

(stand./opt.)

800 / – kg
1,500 / – kg
1,500 / – kg
1,600 /3,000 kg
Hook height
25.5 m
29.8 m
32.8 m
34.3 m
Range

(250 kg)

18.5 m
21.0 m
23.0 m
24.0 m
Range

(500 kg)

11.5 m
–
–
16.5 m
Range

(800 kg)

6.5 m
9.5 m
9.5 m
–
Range

(1,000 kg)

–
8.0 m
8.5 m
9.0 m
Range

(1,500 kg)

–
4.5 m
4.5 m
–
Range

(1,600 kg)

–
–
–
5.0 m
Details
Details
Details
Details
Thought out in detail
Klaas trailer cranes show off their strengths in the inner-city area and on building sites with tight access conditions. This means they can be set up in inner courtyards or inside large buildings if narrow driveways make it impossible to set up a mobile crane. They too are equipped with the Klaas aluminium boom, which combines a low net weight with high reach values. Thanks to the remote-controlled self-drive mechanism, the trailers can be effortlessly manoeuvred even in tight spaces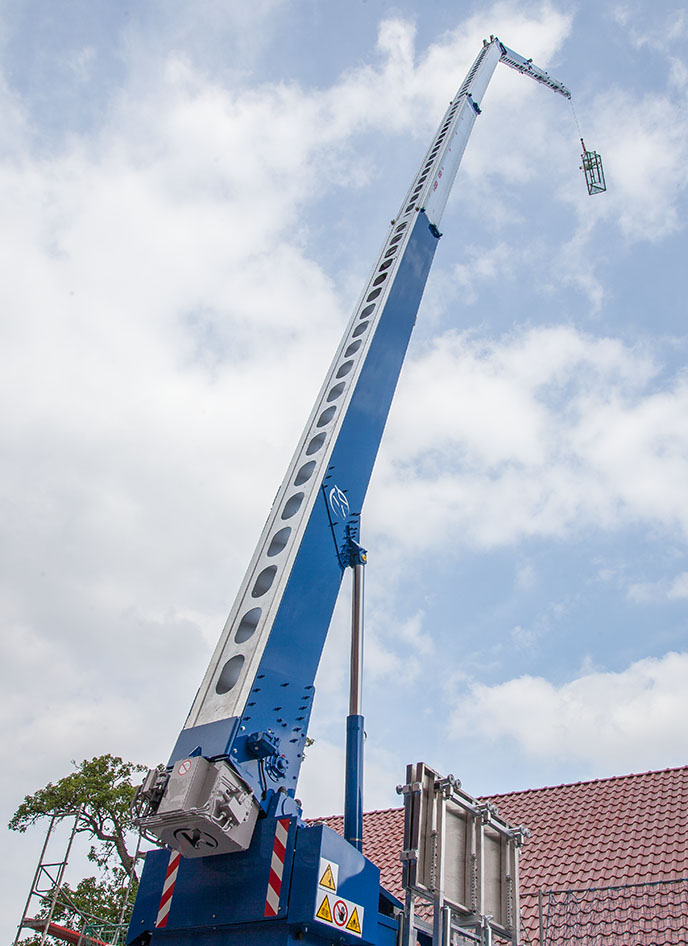 The Klaas boom system
The most striking trademark of a Klaas crane is its boom. This consists of high-strength aluminium profiles made from a special alloy and is produced in the stir welding process. It thus provides a strength as if milled from solid metal, a long service life and low maintenance costs. Its low net weight ensures outstanding reach
Another feature of our aluminium cranes is the extremely strong fly jib. When extended, it significantly increases the maximum hook height and enables a high lateral outreach. This means that even rear roof areas can be supplied with material if scaffolding or eaves prevent the main mast from being extended far. Almost all Klaas truck cranes and our largest trailer crane are equipped with a hydraulically telescopic fly jib that can be extended and retracted at the push of a button and virtually in mid-air.
The patented Klaas winch technology enables quick and secure telescoping of mast and fly jip. And this, of course, also under load both in crane and platform operation. Four telescopic ropes are assembled on a single drum, whilst the track system is fixed into the cable technology. As the cables are guided and electrically monitored, slack ropes and skipping are prevented. An integrated electronic length measurement constantly records the current extension length of the mast and uses the data to calculate the maximum possible load capacity.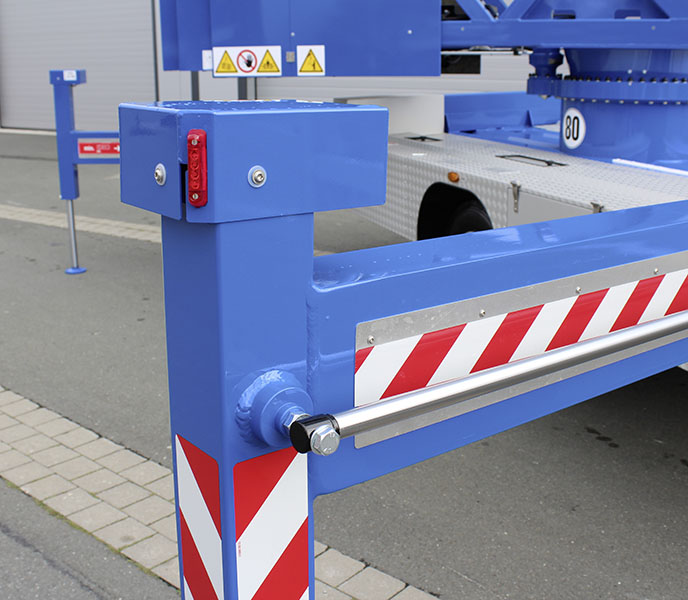 The Klaas support system
The two largest Klaas trailer cranes are equipped with an electronic set-up automatic, on the K21-30 RS it can be ordered as an option. In this case, the assembly of the crane and automatic self-levelling are carried out completely by remote control. This ensures that all the outriggers have the same pressure and that the appliance is perfectly sturdy. Furthermore, the L-shape of the outriggers guarantees the best possible stability. Thanks to the fully hydraulic support system, it is possible to move each single outrigger infinitely and accurately into position. Their long, vertical cylinders save them from being laboriously propped up on uneven terrain. As the outrigger widths can also be infinitely adjusted, even scaffolding, hedges or narrow alleys do not create an obstacle.
The ASC control system permanently monitors the stability of the appliance in crane and lifting platform mode and shows this via the remote control. At the same time it also takes changing wind or ground conditions into account. All crane functions are only activated if all four outriggers have an evenly high pressure, and if the support pressure is insufficient, a safety shutdown is automatically performed.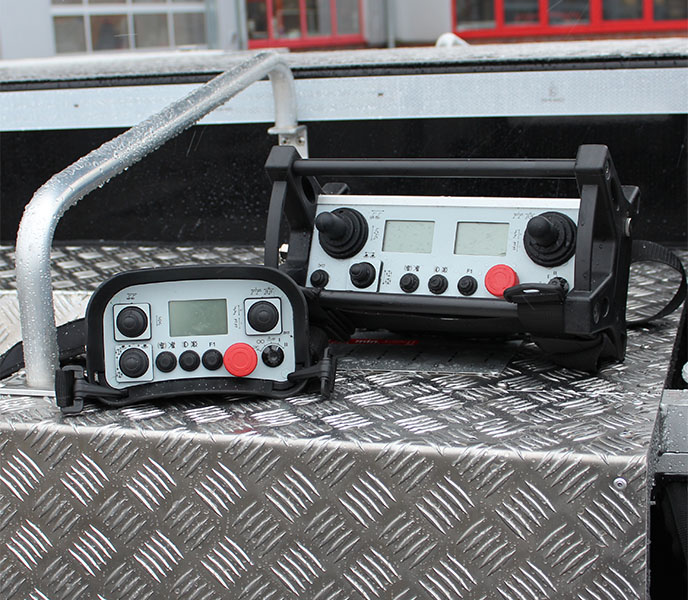 The Klaas crane control system
Klaas cranes are operated by a combination of a Sauer-Danfoss control block, a Wiedemann safety PLC and an intelligent remote control. The complex control system meets the requirements of EN 280 and EN 13000 and is programmed and coordinated according to Klaas specifications. A modern CAN bus control block with a soft start/stop function enables particularly delicate and precise work and prevents the boom from swinging dangerously. With the aid of a memory function, two target points can be learned within which the crane moves automatically and in safe hold-to-run operation. This makes it possible to approach hard-to-view areas with pinpoint accuracy and to unload quickly at positions that need to be approached repeatedly.
All important information can be read at a glance on the remote control display. It is operated via standard batteries or via cable - a key plus point should the wireless network be interrupted. Every Klaas crane can be equipped with a second radio remote control. This means that a second employee can take over the crane control and finish the job if positions are difficult to see.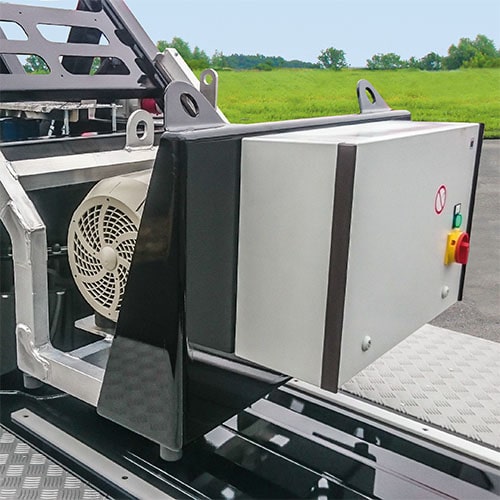 The Klaas drive concept
Separate diesel or petrol engine
Depending on the model, the trailer cranes are equipped with a powerful diesel or petrol engine. Both engines guarantee low fuel consumption due to their optimum adjustment to crane operation. Thanks to electronic tank monitoring, filling is continuously monitored and displayed via remote control.
Hybrid drive
All trailer crane models (except the K280) can also be ordered with hybrid drive. In addition to the conventional diesel engine for fast operation, a 400-volt electric motor is also supplied. This operates quietly and is an environmentally friendly alternative to the combustion engine. Supplied with 32 amps of power current, the electric motor can also be operated cost-effectively. An integrated phase inverter ensures the required direction of rotation of the motor. The electric motor can be removed without tools for transporting the trailer in road traffic - so the permissible total weight is not exceeded.