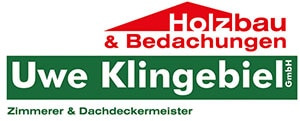 Holzbau und Bedachungen Uwe Klingebiel
| | |
| --- | --- |
| Company profile: | Roofing and carpentry firm, crane hire |
| Company headquarters: | Hohes Kreuz near Göttingen, Germany |
| Size: | 10 employees |
| Homepage: | http://www.holzbau-klingebiel.de |
Uwe Klingebiel founded his company in 2003 in an area where the three states of Thuringia, Lower Saxony and Hesse meet. Since then he has been looking after his customers and their building projects from the planning stage to the topping out ceremony. Besides all work around the roof, the master carpenter and roofer has focused on timber frame construction and facade renovations.
In order to be able to build with studding or add storeys, only one crane came into question for Uwe Klingebiel that can easily lift large and bulky loads. He opted for a K950 RSX, which meets these requirements with its maximum load of 5 t and a hook height of over 41 m. Due to its ability to be converted into an elevating work platform, Uwe Klingebiel can also use the crane perfectly for facade work on high buildings. And if he does not need the crane himself for a time, he also hires it out with his trained staff to other firms.
---
"
Modern houses are increasingly being built using the timber frame method. Once the individual components have been produced in our workshop, the crane helps to transport the big and heavy elements to the right place and fasten them there. That saves valuable time during the final assembly stage.
"
Uwe Klingebiel, Master roofer and carpenter
---