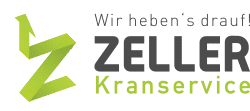 Zeller Kranservice
| | |
| --- | --- |
| Company profile: | Hire of mobile cranes with crane drivers plus accessories |
| Company headquarters: | Werl, Germany |
| Size: | 4 employees |
| Homepage: | http://www.zeller-kranservice.de |
The new company from Werl in North Rhine-Westphalia was only founded in 2014. Everything first started with a Klaas K29-34 TSR, with five other aluminium cranes from Ascheberg soon being added. And they are almost always in action as Dirk Zeller and his colleagues are now booked for a wide range of jobs throughout North Rhine-Westphalia.
Roof repairs, window and glass installations, work for the mobile communications industry or erecting large halls and conservatories – the jobs tackled by his four mobile cranes are varied and complex. Dirk Zeller's customers particularly appreciate the load capacity and ranges of his appliances, combined with the ability to convert these quickly and easily. Another plus point is the numerous accessories that Zeller Kranservice offers for its aluminium cranes. For instance, tile clamps, pallet forks, rubble skips and vacuum lifters can be supplied if necessary or the cranes can be converted into elevating work platforms.
---
"
With the K1000 RSX and its load capacity of 6 tons and an extension length of almost 52 m, we cover areas of application for which we previously had to rent equipment ourselves. With our giant, as we call it, we can react even faster and more flexibly to customer inquiries.
"
Dirk Zeller, Owner Kranservice Zeller
---